I'm here with the briefing exclusively for Australian businesses on Tuesday, 16th June.
In today's briefing:
1. ATO audit targets
2. JobKeeper: will it be turned off?
1. ATO audit targets
Recently the ATO provided guidelines on where it will be paying closer attention to businesses that may appear to have gamed the system to qualify for JobKeeper.
One of the first areas the ATO will be looking at are industry sectors that have not been significantly affected by the crisis. If an industry has been booming during COVID-19 (or has been relatively unscathed), the ATO will be interested in businesses within that industry that are receiving JobKeeper.
Another area of interest for the ATO will be businesses that since joining JobKeeper have hired more staff than they had before 1st March.
I'll provide more examples of activity that the ATO will be targeting for close examination but first I want to make this point:
If your eligibility into JobKeeper is on the ATO target list, it doesn't mean you're in trouble with the ATO. When JobKeeper was launched, the primary requirement for entry was based on estimated decline in business turnover. If you can prove the reason you believed you were eligible for JobKeeper, you'll be in a good position to respond if the ATO contacts you with an enquiry.
This is why your business coaches and I have been stressing the need to document your reasons for obtaining JobKeeper.
The ATO has advised that there are several schemes that are likely to attract the ATO's attention for close review. These are the 10 examples of schemes to obtain access to obtain the JobKeeper:
Example 1 – deferring the making of supplies
Example 2 – bringing forward the making of supplies
Example 3 – transfer without any decline in external revenue
Example 4 – employer entity that reduces a service fee
Example 5 – employer entity stands down employees
Example 6 – employer entity unable to pay
Example 7 – parent company of a corporate group that reduces management fees
Example 8 – parent company of corporate group manipulates timing of management fee
Example 9 – deferral or reduction of price paid to suppliers so that suppliers obtain a JobKeeper payment
Example 10 – deferral, reduction or waiver of revenue paid to company solely so a Company can obtain a JobKeeper payment
To read the ATO's full brief on the examples, visit the ATO Practical Compliance Guidelines (PCG 2020/4) here.
The ATO's view that increased staffing numbers may be a signal for review is relevant to several businesses.
In one case, one of our clients had quoted for a large council project that, when coronavirus struck, we were advised that it would likely be put on-hold indefinitely. Based on that assumption, our calculations of future revenue meant that the client satisfied the turnover decline test for JobKeeper eligibility and subsequently saw a 30% reduction in turnover the next month.
As a result of the government stimulus for local councils, the project was then approved and we have had to employ additional staff to deliver the project on schedule.
The client has kept records of this by way of the calculations we did and the emails we have sent each other with updates on the project deferral and then subsequent approval.
The key point to note is that when you get an uplift, particularly an unexpected one, document it as part of your evidence trail. An easy way is to send your business mentor an email with the news; that way it's time and date stamped.
JobKeeper: will it be turned off?
I've heard that some bookkeepers and accountants have warned clients that JobKeeper is going to be turned off or changed to stop businesses receiving it.
We can only go on the official advice – this is straight from Scott Morrison on 5th June 2020 in answer to specific questions on it: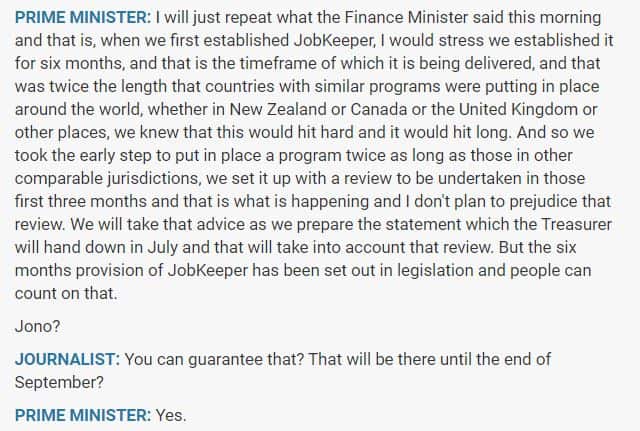 The PM went on to say:
"Now, what happens post-September is something that is being considered as part of the review the Treasurer has put in place for those programs and I'm not going to preempt that. We are in June and we are talking about something post-September and one of the things, I think, I hope we have all learned is that this is a fast-moving situation and there are many uncertainties and you can't get too far ahead of yourself on some of these decisions because circumstances change. And so we have those measures in place, they were put in place for six months. That has bought us considerable time, far more time than other countries have been able to purchase through the way they have designed their measures and that has given, I think, Australians a lot of confidence, a space to work within during this period of uncertainty. And in the same way, we worked to put those things in place, we are working to look at what our options are beyond that point in time and what is necessary. But it is still very premature to be making those calls."
(For the transcript, read the PM's press release here)
—-
Now (and I'm just I'm speculating here), there is a possibility that the government could remove the JobKeeper top-up – that is, the requirement for businesses to top-up payments up to $1,500 per fortnight for people earning less than $1,500 – after the review (23rd July) and before the end of September.
I don't believe this would have a big impact on confidence in the economy and would actually make it easier for some businesses who saw their payroll increase and cash flow stretched thin as a result of having to make extra payments over their normal wages. We'll wait and see.
In the meantime, keep consulting with your business coach and refining your business model to come out the other side stronger and better prepared to take advantage of the new opportunities.
Ash
Ashley Thomson B.Eng(Hons), Grad. Dip. Mgmt, MEI
Managing Director
Tenfold Business Coaching